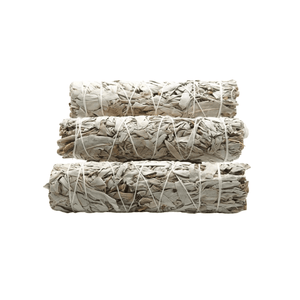 Smudging (burning) sage is an ancient spiritual ritual. Known to cleanse spiritual impurities, pathogens and negative ions. Smudging has long been used to connect to the spiritual realm to enhance intuition. Burning sage can lift one's mood and be a great ally against stress.
Our Product is :
Large Organic Sage wand
Each stick is approximately 4 inches long and 1 inch wide.
Use for smudging rituals and home fragrance.
All bundles are Grown in California, hand-tied in 100% cotton string, and packaged in the USA.
No pesticides were used in the growing or processing of this sage.
High quality, true White Sage (Salvia Alpiana).